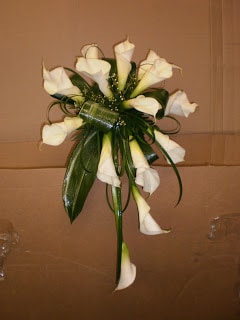 A wedding would just not be the same without flowers. Every bride wants her wedding to be memorable and her choice of flowers or arrangements should reflect her specific taste and personality. Her flowers should create a theme to make her wedding day special and provide the finishing touch to this very special day.
Understand that there are no right or wrong choices when selecting flowers for your wedding. It is your own personal choice, as your own preferences are the most important part, as well as having a basic understanding of what works well for the theme you've chosen and your budget. You can also expect a good florist to provide you with helpful advice, so be prepared to ask plenty of questions and to run ideas past your florist once you reach that stage.
Remember that less is more. Flowers are the splash of color, the ornamentation on top of many other already beautiful parts of a wedding.
Good positioning and use of inexpensive foliage can create the sense that you have more floral arrangements than you actually do.
Start by looking through bridal magazines, books, and even gardening books that focus on flowers. If you don't already have an idea of the types of flowers you'd like to have, simply looking at beautifully photographed flowers can be a lovely way to start getting an idea of what you like. Even consider taking a tour of a local Botanical Garden or a greenhouse where flowers are on display, to get a real feel for how the flowers appear.
Determine your budget. Before you get too excited, do the sums. Some floral arrangements might not be realistic once you have budgeted for everything else, so it's a good idea to know how much you have to spend on flowers before getting your hopes up. When you visit the florist, you can discuss the extent of your budget and work from there. It's a good idea to keep some flowers on your "must-have" list and some on your "wish-list", so that if you do have to pare down, the wish-list flowers can go first without depleting the flowers that you must have. See the "Tips" below for an indication of essential flowers versus nice-but-not-necessary ones, if the budget can't stretch that far.
Be prepared to be more creative if you're on a budget.
Don't hedge around the cost with your florist. Be honest if you can't afford much; it'll help your florist look for cheaper but just as lovely alternatives early on.

Use expensive flowers sparingly, such as for the bridal bouquet only.

Centerpieces soon add up. Consider finding less elaborate centerpieces to reduce the costs if your budget is tight.

Feel free to mix and match flower types and to raid the garden as well. All flowers are beautiful, whether they're cheap or expensive; the important thing is freshness and a price you can afford.

Use fragrant flowers to give the impression that there are more flowers; stronger smelling flowers will perfume a room with ease (for example, lilies, hyacinths, jasmine, and sweet peas).
3. Consider the color of the flowers. Color is an important part of your decision about which flowers to have. The colors chosen should complement the bridal gown, the wedding theme, and the clothing of the rest of the bridal party. Colors chosen according to the seasonal availability will allow you the greatest impact for the smaller price, as seasonal flowers will always cost less. When thinking about color, consider what the flowers have to contend with in the room, marquee, or outdoor area where they're located and be sure to choose colors that will stand out.
You can finish this article here.
Pugh's Flowers is accepting summer and fall weddings and offers a free consult with our wedding coordinator, Jessica Watson. Call 901-363-6744 to schedule yours today.