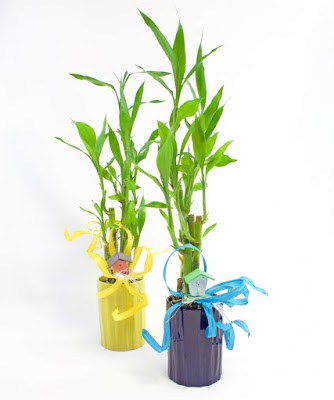 Lucky Bamboo History
The history of
lucky bamboo
can be traced back to Chinese culture
for over 4000 years. Lucky Bamboo is not really a bamboo plant. It is a
member of the lily family that grows in the dark, tropical rainforests
of South-east Asia and Africa. It is also known as Dracaena sanderiana,
Dracaena braunii, Ribbon Dracaena, Belgian Evergreen or sometimes Ribbon
Plant.
Lucky bamboo plants have been used for good fortune in the Asia
culture. Chinese Legend says a gift of Lucky Bamboo can bring you Good
Luck, Prosperity, Wealth, and Happiness. It is one of the most popular
cure in Feng Shui. It makes an ideal gift for household, office, new
ventures, or party gifts. It is a decorative indoor house plant and can
be potted either in soil, rocks, or water. It is keep in room
temperature and must be keep away from direct sunlight. It requires
little basic care. Just insert the plant into a container, fill the
container with rocks to support the plants, and add some clean water
weekly.