We are here to bring you and your loved ones cheers during these uncertain times. Even if we can't all be together in-person doesn't mean we can't let each other know how we feel or celebrate any upcoming special occasions.
While we have many flower arrangements and bouquets available as part of our many floral design collections we also have some other great ideas for gift choices. One of these is our Designer Choice product.
How the Designer Choice Floral Options Work
When you choose this gift option, it means our floral designers get to work on creating something just for your recipient. We only use the freshest flowers available and often focus on seasonal flowers, greenery, and accents to give you the best value for money.
There are many sizes to choose from that are designed to fit your budget. Our standard size is $49.95 followed by our large for $79.95 that comes with a free upgraded vase.
The extra large option for $99.95 comes with a free upgraded vase. The biggest option is our extra, extra large is $199.95.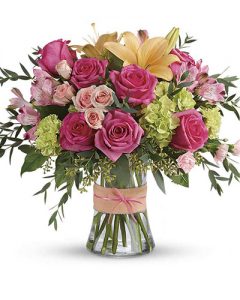 Best Gift For Many Occasions
This special floral design option is a great gift for upcoming events like graduation, birthdays, and anniversaries. You can also consider it as a thoughtful gift for someone on the mend from an illness or surgery.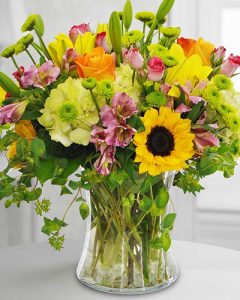 It's also a good way to welcome a new neighbor or send a teacher a thank you for getting your kids through the rest of the school year.
Other Great Floral Gifts
That's not to say we don't have many other beautiful floral options to express your love for others. For example, one of our Memphis flower shop favorites is the "Spring Hat Box Bouquet." The hat box colors may be white, pink or dark brown. Each one is then filled with beautiful and colorful seasonal stems.
Delivery Options
During this time, we have two delivery options. Please order by phone or through our website and let us know during checkout if you would like no contact delivery or curbside pickup. Both delivery options focus on helping to ensure the health and safety of everyone in our community.