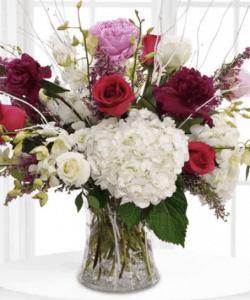 The holiday season is here and we are here to help you get ready. Whether you are celebrating Hanukkah from December 10 to December 18, Christmas, or both, your favorite Memphis flower and gift shop has got you covered.
Let's start with our Hanukkah collection, which offers many choices in floral bouquets in blue and white hues as well as decorative and elegant centerpieces to grace the Hanukkah table throughout the Festival of Lights. If you are not able to attend Hanukkah this year with other family members, we even have a gift set with a bouquet and chocolates to send.
Then, there is our Christmas collection, with a wide range of floral and Christmas plant products to choose from, not to mention special holiday gifts for special people in your life! There are wreaths, garlands, bouquets, and centerpieces in all types of styles, colors, and sizes. This includes special keepsake centerpieces with a Thomas Kincade Christmas to elegant footed bowl centerpieces to traditional and rustic holiday centerpiece choices.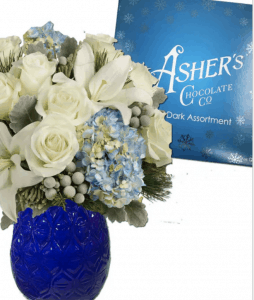 We've also got whimsical displays with snowman containers, nostalgic truck containers, and modern looks like concrete-style vases. There are also many sizes and shapes to our holiday floral displays that offer a way to decorate every room in your home.
For the outside or inside, we also have poinsettia plants and decorative holiday gardens that combine poinsettia plants with other seasonal green plants. In red or white, these Christmas plants also add more festivity and blend well with all types of holiday decorating styles.
Then, there are many gift items to plan some of your holiday shopping, checking off thoughtful gifts like gift packages with locally sourced Memphis small business items for teachers, service personnel, clients, neighbors, and more! From poundcake and chocolates to soy candles and more, you can send your appreciation to so many with these value-added holiday gift packages from our Memphis flower shop.
For all of you that celebrate both Hanukkah and Christmas, we also have some wonderful centerpieces and floral displays that provide a winter decor feel that accommodates the colors and symbolism of both special holidays. These include all-white centerpieces as well as those that mix white and blue with red and green accents.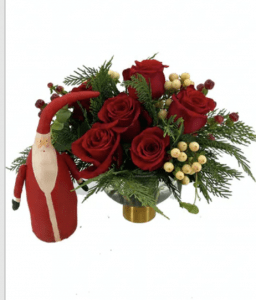 We still offer a custom holiday decorating service. Schedule your appointment to meet with our floral designers for custom holiday centerpieces and more!
Order in-person, by phone, or through our website. We offer curbside pickup and contactless delivery throughout the Memphis area. Order today!