Pugh's Flowers
The USA Weekend Magazine introduced the concept of National Make a Difference Day in 1992,. This day has blossomed and grown in popularity as the time for people to get involved for the betterment of others. It is also the perfect occasion to send gorgeous flowers and from Pugh's Flowers.  The gift of flowers can be that spark of enthusiasm to get someone excited about helping to make their community a better place. This is the mission of Make a Difference Day. People come together to volunteer for wonderful activities that will improve their community and the world at large.
Each year, the fourth Saturday of October has been officially designated as National Make a Difference Day. Creating a special day to make a difference for to betterment of the world is a worthy cause. There are so many people in our communities and around the world that could use the help of those willing to volunteer.
As people contemplate their actions to be involved in Make a Difference Day, here are some key things to keep in mind.
Be an inspiration to others to join in the volunteering movement for betterment.
Be sure to share all volunteering efforts with friends and colleagues to inspire others to get involved.
Taking care of others and the environment will help us all.
There is a wide array of actions one can take for the betterment of society. Be open minded and know that any action to help society is a good action.
Embrace this day as it is a time of being united with people that share the same desire to volunteer for good.
If in a corporate setting, employees can rally together and start planning well in advance of the actual volunteering event.
Our expert and professional Floral Designers at Pugh's Flowers will help to create beautiful and motivational flower arrangements and bouquets that can be sent as inspiration or appreciation for National Make a Difference Day.
Beautiful Glads – 12 stems of mixed color Gladiolus are arranged in a glass vase for a tall and showy arrangement that will last!
Better Together Bouquet – Life is always better, when we are together and this gift will convey that message beautifully. Brightly colored stems in an upgraded container will be accompanied by a locally made, "Better Together" greeting card.  Your support will be felt when this gift arrives!  Stems and vases will vary slightly but could include hydrangeas, roses, gerberas and orchids.  Flowers and stems will vary according to availability.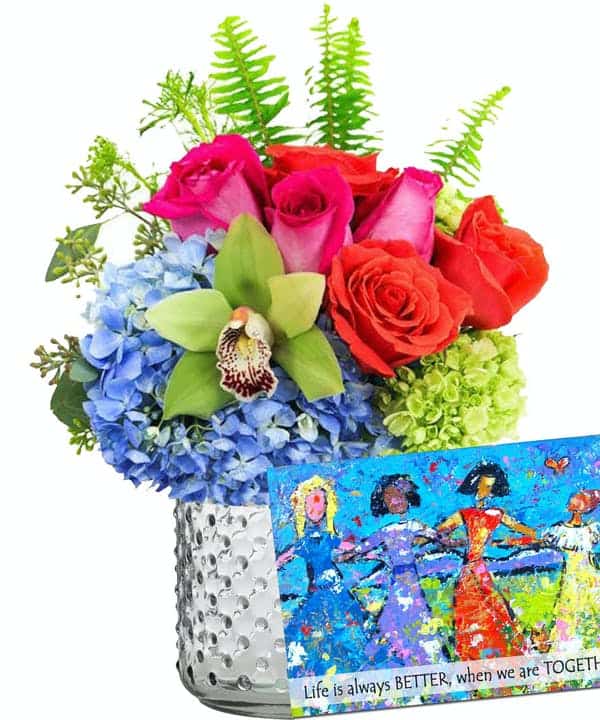 Better Together Bouquet
Florist In Bartlett Tennessee
Voted Best Florist In 2018
Pugh's Flowers is a family owned and operated floral design firm. We have more than 40 years of experience designing and delivering flowers in the Memphis and Bartlett Tennessee area. We first opened our doors back in 1976. Our company was started by our father, Bill Pugh. Today, the firm is run by two of Bill's three sons. Michael Pugh handles the administrative piece of the business, while brother Tim handles all of the operations duties. Brother Mark, runs the family's thriving landscape business. In addition to flowers and landscaping, the Pugh family also operates a third business called Rosie's Pest Control.
Pugh's Flowers operates four floral design centers in the greater Memphis metropolitan area. We employee a super talented group of designers and support personnel. Our design team is well known for their unique, artistic and creative floral designs. We offer a wide variety of fresh flowers and sell more roses than anyone in Memphis. If you haven't seen our roses, you are missing out. They come from Ecuador and have longer stems and larger blooms. They are absolutely gorgeous. Looking for something really unique? We carry all of the favorite flower varieties.
Planning to get married soon? We offer a Free wedding consultation for every new prospective bride. Our wedding specialists can help you create the perfect floral theme for your special day. In addition to weddings, our firm also handles designs for commercial clients, special occasions, parties and for corporate events. Our firm is large enough to handle a weddings or event of any size.
Pugh's offers a great selection of occasion themed flower arrangements. We carry arrangements and gifts for virtually every special occasion & event you can think of. Many of the fresh flowers we sell come farm-direct to us. That ensures that we can offer the finest, freshest, highest quality flowers in Bartlett. We carry gorgeous Ecuadorian long stem roses, stunning cymbidium and dendrobium orchids, dazzling lilies and all your traditional favorites.
Looking for something other than a flower arrangement? You have come to the right place. Pugh's has the best selection of green, tropical and flowering plants in the area. We have everything from emerald garden baskets, to hanging plants to traditional dish gardens. We also sell gourmet gift and fruit baskets. We fill them with lots of gourmet treats, including Godiva chocolates, fresh seasonal fruit and other wonderful edible delights.
Pugh's Flowers offers same day flower delivery to all Shelby County Hospitals, Funeral Homes and Mortuaries. We also have a floral design center in Southaven, MS. We make daily deliveries in the Southaven Mississippi area as well. We invite you to do your shopping on our website. If you prefer, we also have four floral design centers available for you to come in and see our entire selection of flowers, plants and occasion themed gifts.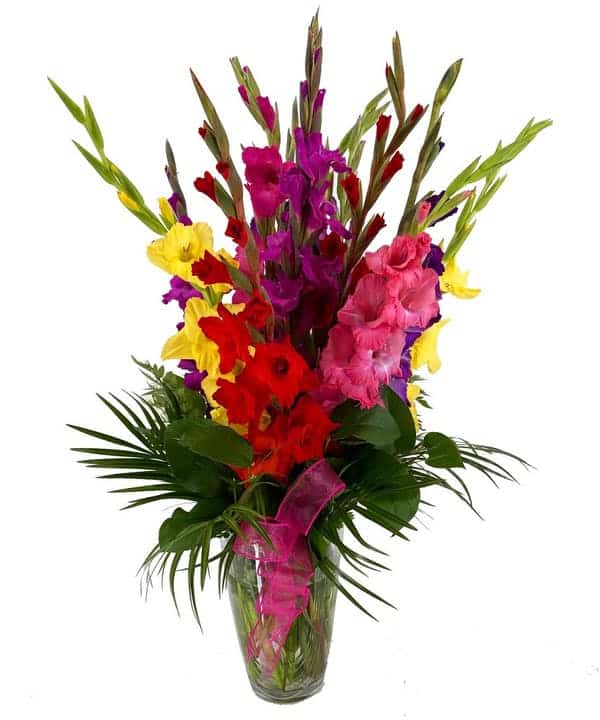 Beautiful Glads
MAIN LOCATION
2435 Whitten Rd.
Memphis, TN 38133
(901) 405-6670