Pugh's Flowers Offers Same Day Delivery to all Shelby County Hospitals
March is a great month to celebrate a birthday. People with a March Birthday are fortunate. March Birthday Flowers from Pugh's Flowers will convey a special celebration message. March has some unique things to offer. For example, it is the month when we make the wonderful change from Winter to Spring. Well at least in our hemisphere. Spring is a magnificent time of year. That is of course assuming you prefer warmer weather and the beginning of new growth for plants and flowers.
Pugh's Flowers offers same day flower delivery to all Shelby County Hospitals, Funeral Homes and Mortuaries. We also have a floral design center in Southaven, MS. We make daily deliveries in the Southaven Mississippi area as well. We invite you to do your shopping on our website. If you prefer, we also have four floral design centers available for you to come in and see our entire selection of flowers, plants and occasion themed gifts.
Some of the other unique things about March are:
People born before March 20th are considered to be Pisces on the zodiac chart. Those born after that date are considered to be Aries. Followers of the zodiac signs feel that Pisces people are compassionate and creative. Conversely, Aries people are thought to be passionate, motivated and energetic.
There are two birthstones in March. One is the Aquamarine. This stone is blue-green and creates beautiful jewelry and the name comes from the Latin word for seawater. It is thought to have healing powers. The second birthstone is the Bloodstone. It is a quartz type of stone that is also thought to have healing powers. In addition, Centuries ago the Egyptians believed the Bloodstone gave them additional strength as they battled their enemies.
The March Birth Flower is the Daffodil. A wonderful Springtime flower, there are 13 different divisions of the Daffodil or Narcissi. Pugh's Flowers has a nice selection of these for customers to purchase.
One study in Europe revealed that March born people tend to be much more positive.
Of course, there are always studies that reflect interesting things. For example, one study has shown that March babies have high likelihood of becoming CEOs. While yet another shows they have a high potential of becoming pilots.
Pugh's Flowers offers the most elegant Flowers to celebrate a March Birthday!
CUSTOM NUMBER SHAPED FLOWERS
If a big occasion is coming up and you are looking for a spectacular centerpiece, look no further. Specify the numbers or letters required and the colors of your event. Our designers will fill the custom piece with flowers and arrange them on a stand, ready to set on the table. This piece takes a few days for planning so give us a call to discuss, 901-363-6744.
March Birthday Flowers & Birthday Themed Gifts from Pugh's Flowers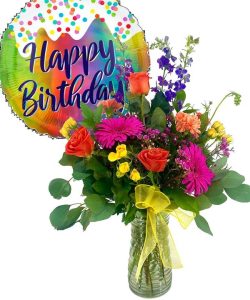 WE OFFER SAME DAY DELIVERY FOR OUR BIRTHDAY FLOWER COLLECTION ARRANGEMENTS
Pugh's Flowers has a wonderful birthday flower collection. We offer birthday themed floral arrangements that include all your favorite flower varieties. Looking for a unique birthday arrangement? Look at our "Flowering Birthday Cake." It looks just like a cake, but is made of gorgeous roses, mini-carnations and pompons. This arrangement is really a popular choice.
We purchase many of the flowers we sell direct from flower farms. Our staff buys from both domestic and international growers. Buying direct offers many great advantages. It ensures that our customers always have access to the widest selection of floral varieties. We by premium flowers which also ensures that our customers have access to the finest, freshest, highest quality floral products available. Our product mix includes all of the local favorites, such as gorgeous long stem, spray and garden Roses.
BIRTHDAY BASH BOUQUET & BALLOON
COVID-19 Update: We're still delivering your love! During checkout, you will be offered "No Contact Delivery" for local deliveries to help ensure the health and safety of our community.
No birthday bash is complete without a surprise delivery of beautiful blooms! This festive bouquet of various mixed color blooms is topped with a fun Happy Birthday balloon for a gift they'll never forget. Stems will vary according to availability, but our designers will make this one festive for any birthday!
Pugh's Flowers
Main Location
2435 Whitten Rd.
Memphis, TN 38133
(901) 405-6670