Pugh's Flowers is a Proven Community Leader
We invite you to shop with Pugh's Flowers and be confident that you are selecting the most beautiful Saint Patrick's Day Flowers to celebrate this enjoyable holiday.  Saint Patrick's Day on March 17th is the last major holiday we celebrate before the long-awaited Spring season commences. In addition, it will also be the first in two years where people will be gathering in larger crowds to celebrate Saint Patrick's Day.    Our staff is made up of a team of extremely talented and passionate floral designers. They create stunning, thoughtful, fresh and upscale flower arrangements and can have them available for local same day flower delivery service.
You may not know that the original theme color for Saint Patrick's Day was blue and not green. If you want to be original, try purchasing some of our blue flower arrangements and tell your guests they are for this special holiday. Some of the favorite flowers and plants to purchase for Saint Patrick's Day are:
Shamrocks
These are the traditional plants symbolizing Spring's rebirth and were once considered a sacred plant in Ireland.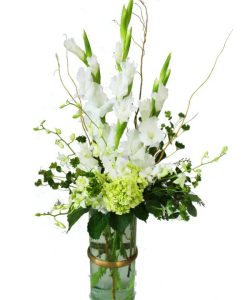 Bells of Ireland
This plant has tall green spires with bell shaped blooms. Encased in the bells are small delicate white flowers. Most of the time they are used as accents in flower arrangements. However, than can act as an arrangement all by themselves.
Daffodils
The scent of the Daffodil can make any home smell fresh and Spring like. These are a favorite Irish flower but also a favorite in the US. Some of the most adored varieties are the Acropolis, Obdam, Calgary, Thalia, Delnashaugh, Replete, Winston Churchill and Bridal Crown.
Yellow and white roses
Roses are always a favorite. Mixing these with green accents makes the arrangement a very Saint Patrick's Day themed gift.
Cymbidium orchid
The Cymbidium Orchid is lime-green and has a delicate appearance. Their five-pointed blooms have multiple colors. The green is great for Saint Patrick's Day. And the symbolism of beauty and love helps with the celebration as well. Some people like to pair these Orchids with Hydrangea.
Green Carnations
One great way to help someone celebrate Saint Patrick's Day is to send a Bouquet of Green Carnations.  These have been a favorite gift for this holiday. You can also send a Green Carnation Corsage to someone. They can then wear it all day and avoid the dreaded pinch that accompanies not wearing green on March 17th.
White, yellow or green-dyed daisies
A favorite Springtime flower is the Daisy. These are perfect when green-dyed. They symbolize innocence.
DREAMY WHITE
Elegant white and green stems will be stunning when artfully arranged in a tall cylinder vase. Gorgeous hydrangeas, orchids and other fresh stems will be sure to make a statement and great gift!  This gift is versatile and comes in two sizes.
Pugh's Flowers Saint Patrick's Day Flowers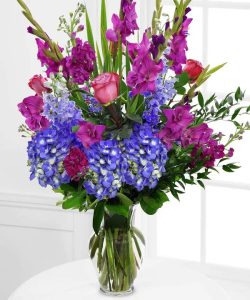 Pugh's Flowers was started in 1976 by Bill Pugh and his partner. The flower shop currently is owned and operated by his three sons and has four retail locations in Memphis, TN as well as a landscape division named Pugh's Earthworks. Landscape operations are based in Memphis, Jackson, and Nashville, TN, as well as Little Rock, AR. The family name is well known and trusted as delivering the best service to each and every customer.
OUR CODE OF ETHICS
We agree to accept and follow these principles to the best of our abilities:
Provide the customer with the freshest possible variety of flowers, fruit, gourmet food and plants.
Have a human operator available 24 hours, 7 days a week.
Offer Monday through Sunday service.
Have extended delivery hour options including before 8am and after 3pm.
Provide an unconditional no risk / no charge guarantee.
Florist agrees to call the recipient of floral deliveries to confirm proper delivery, freshness, and quality.
Delivery vehicles will be lettered with company name and / or logo.
Delivery vehicles will be radio or cell phone dispatched.
Delivery drivers will wear uniforms and /or name tags for identification
Retain computerized database of delivery information for all customers and have that available to customer service representatives.
Offer local, national and world-wide same day delivery service.
Florist will send customer a reminder of important birthdays and anniversaries.
PURPLE POWER
If you love purple this one is perfect! We will fill a lovely clear glass vase with purple and violet stems of all types.  Our talented designers will make this one standout from all the rest!  Flowers and stems will vary according to availability.
Pugh's Flowers
Main Location
2435 Whitten Rd.
Memphis, TN 38133
(901) 405-6670