Pugh's Flowers was voted "Best Florist in Memphis" in 2017
The Pugh's Flowers amazing and professional floral design team has worked diligently to ensure that you are fully prepared to celebrate the Independence Day holiday with your family and friends. When you purchase fresh, colorful and patriotic 4th of July Flowers from Pugh's Flowers, the party will be assured of starting off well. Our flowers are fresh, beautiful and created with a sense of celebration for every occasion. They will make your home festive both inside and outside by creating a patriotic and proud atmosphere. There are many varieties of the patriotic Red, White and Blue Flowers to choose from.
Below are some varieties of flowers that each year seem to be among the favorites. These go well with outdoor 4th of July barbeques or inside the home to add color and freshness. The flowers can also be placed on the front porch to make for a wonderful curb appeal to display your patriotism. As you browse in store on the Pugh's Flowers state of the art website, we welcome any questions or assistance that you may need.
Bright and Bold White Flower Varieties
Shasta Daisy – Much like the Gerbera these are not always easy to maintain but they do add a beautiful shade of white perfect for any 4th of July display. If the yellow center does not bother you, these make plentiful blooms and are considered to be somewhat of a trendy flower.
Annabelle hydrangea – These flowers are not difficult to grow.  The Annabelle hydrangeas are very beautiful and offer very large clusters of small flowers. This creates the perfect volume of white color for a 4th of July flowerpot or container decoration.
Queen Anne's Lace – Place these with other flowers that thrive best in full sun. Their delicate lacy white color is the perfect accent filler and compliment to a container decoration.
Cup Flower – Another of the filler varieties of flower, the Cup Flowers are quite dainty and soft. Their blooms and plentiful and can actually spill over a container grow down to the ground.
Lilies – These are a popular and longtime favorite flower variety. With their large trumpet shaped blooms and amazing scent, they make for a regal 4th of July decoration.
Beautiful Blue or Voilet Flower Varieties
Victoria Blue Salvia – A great addition to a 4th of July patriotic container, this plant displays gorgeous tall flowers. Their bluish hue makes for the perfect complement to the red and white. Also, they add height to the flower container.
Gentian Sage – This flower is the most accurate blue of most flowers. You will not find violet accents. They also are flexible in that they do well in both full sun and partial shade.
Browallia – Place these in partial shade. They have a classic five-petal appearance the makes any container of mixed flowers look amazing. Many people combine them with wax begonias and cup flowers.
Floss Flower – Very similar to the Queen Anne's Lace. The Floss Flower also known as the blue ageratum, has a clustered appearance and does well in full sun or partial shade.
Blue Hydrangea – In order to make a Hydrangea turn blue, they must be places or grown in acidic soil with a pH 5.5 and lower.
Bright and Bold Red Flower Varieties
Red Roses – With their fresh perfume scent and brilliant red color, these always make for a great flower arrangement inside the home or on a patio table.
Zinnias – These flowers offer the perfect shade of red to accent the 4th of July. They do come in other colors as well.
Impatiens – If you have an area of your porch or patio that stays in full shade much of the time, Impatiens are the right flower for that spot. They also have a brilliant red color that is perfect for the 4th of July.
Geraniums – This variety of flower really shows up for summer with large and hearty blooms. They absolutely love sun so are great as outdoor poolside or patio decorations. They do require frequent watering and must be allowed to drain. They come in a vivid red shade but also come in white.
Gerbera Daisy – Daisies have one of the best shades of bright red to compliment the 4th of July. They make any flowerpot standout with a cheery red hue, but they are also not easy to maintain.
COLORS OF OUR COUNTRY
Patriotic colors make this arrangement special and it's a great way to show your patriotism. This makes a great centerpiece for your holiday table.
Pugh's Flowers 4th of July Flowers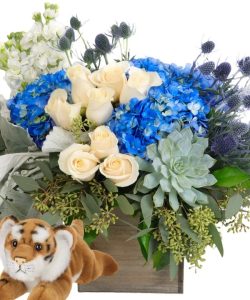 Pugh's Flowers offers fresh flower arrangements, beautiful plants and edible treats in honor of Independence Day. All of these options are guaranteed to start your 4th of July party of with a bang.  Because of our talented designers and staff, Pugh's Flowers was voted "Best Florist in Memphis" in 2017. We offer the best selection of fresh cut flowers, plants and gifts in town.
And of course, our flowers are available for LOCAL SAME DAY, EXPRESS DELIVERY and NATIONWIDE SAME DAY FLOWER DELIVERY.
Petal Rewards
The More You Use; the More You Save!
Check Your Reward Points Balance
250 =$25
500 = $60
750 = $90
1,000 = $120
For every dollar spent on eligible products, you'll receive one reward point (excluding delivery & tax charges). Reward points can be redeemed during checkout for cash savings on future orders. That's the Power of Petal Rewards™. Click here to read our rules and regulations
MEMPHIS BLUES
This wooden cube is filled with blue and white flowers and includes a real succulent which can be replanted and kept as a keepsake plant! This a premium mix including beautiful bright blue hydrangeas!
Pugh's Flowers
Main Location
2435 Whitten Rd.
Memphis, TN 38133
(901) 405-6670