Pugh's Flowers
Valentine's Day is almost here, and if you are looking for a way to show your love this year, there is nothing more romantic than a bouquet of fresh roses. Pugh's Flowers has been providing high quality Valentine's Day Roses for many years, and we have got everything you need to make Valentine's Day special. Whether you are planning an elaborate proposal or just want something simple and sweet, we have all of your flower needs covered!
Pugh's Flowers Roses and Flowers
Pugh's Flowers is a family owned and operated business. We have been in business for many years, which means we know our flowers! Our goal is to make sure your experience with us is as pleasant as possible. We offer 100% satisfaction guarantee on all of our products, so you can shop with confidence knowing that if you're not happy with your order we will replace it or give you a full refund.
We stock an extensive selection of roses, including some rare varieties that are not available anywhere else in the area–or even online! You will also find an array of other blooms like tulips and daisies at Pugh's Flowers: just about any kind of flower imaginable can be found here! And do not forget about gift packages if you would like to give your special person some Valentine's Day sweets.
Long Distance Valentine's Day Roses
If you are looking for a long-distance rose delivery service, Pugh's Flowers is the best place to buy your roses. They have a 100% satisfaction guarantee and will replace any damaged or incorrect orders. You can also choose from multiple delivery options including same day delivery and next day delivery (for select cities).
Pugh's Flowers Roses
With Pugh's Flowers roses, you can be sure that your money will be well spent. These are the most beautiful and fragrant roses in the world. They are also long lasting, affordable, and easy to maintain. The care guide below will help you keep your new rose healthy for years to come! We have been creating and delivering beautiful rose arrangements for more than 60 years. We purchase many of the roses we sell direct from flower farms in Ecuador. The roses from Ecuador are truly stunning. They are grown high in the mountains, where the plants benefit from the perfect blend of sunlight, soil conditions and moisture.
For many years, Roses have been the most popular flower for Valentine's Day. Interestingly, both the number of roses and the color you choose as a gift have very symbolic meanings. For example:
Red Roses are arguably the most popular and they symbolize a declaration of love.
White Roses symbolize purity, innocence, youthfulness and everlasting love. Though they can also mean there are no romantic intentions.
The combination of Red and White Roses symbolizes a message of unity.
Pink Roses convey happiness, joy and a message of gratitude.
Yellow Roses symbolize affection, warmth and a message to cheer someone up.
Similarly, the actual number of Roses you give someone can have symbolic meaning:
One Rose means love at first sight.
Two Roses signifies that you are a couple.
Five Roses means I love you.
Nine Roses means that your love is eternal.
Ten Roses is thought to be the perfect number to signify perfect love.
Twelve Roses basically has a meaning of a marriage proposal.
Pugh's Flowers is your one stop shop for beautiful roses this Valentine's Day. We offer a variety of roses, including red roses, pink roses and yellow roses. Our flowers are hand selected by our professional florists and delivered fresh to you or your loved one by our reliable delivery service.
Conclusion
Pugh's Flowers has a wide variety of beautiful roses that are perfect for any occasion. Whether you are looking for a romantic gift or just want some fresh flowers at home, we can help!
Discount Offers – Use on Main Website
About Pugh's Flowers Valentine's Day Roses
We purchase many of the roses we sell direct from the growers. Ecuadorian roses are a favorite of our design staff. These roses are longer stemmed and have gorgeous large blooms. Grown high in the mountains of Ecuador, these roses enjoy the perfect combination of sunlight, moisture and soil conditions. Producing a rose that is simply stunning. Based on the sales data, roses tend to be the most popular flower in the United States. We use gorgeous roses in many of the fresh flower designs we create. Our firm carries roses in lots of incredible colors. Next time you are in the area, we invite you to stop in at one of our floral design centers. You can see all the wonderful rose options we offer. In addition to roses, we carry the best selection of other floral varieties anywhere in Memphis.
Many of the roses we sell come directly from flower farms. We buy from both domestic and international growers. Buying roses direct offers many great advantages. The cost of acquisition for the roses is much lower when you eliminate the wholesalers and middlemen. We can pass along those great savings to our customers. The time between when the farms cut the roses and when they arrive at our Flower Shops is reduced. Roses, like other fresh cut flowers, are perishable products. Freshness matters! When our award winning design staff creates an arrangement with roses, we know that those roses are the finest and freshest they can be. That freshness translates directly into longer vase life for the customers who receive the gorgeous flower arrangements we create.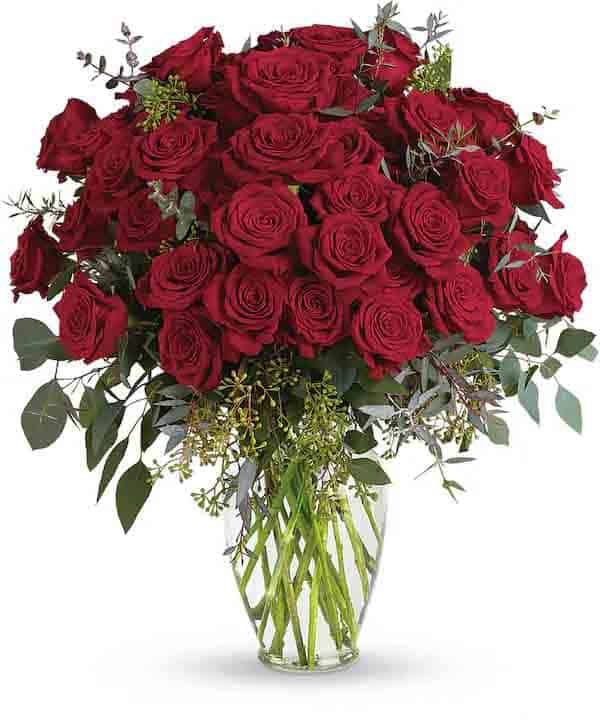 FOREVER BELOVED ROSES
Forever beloved. Forever in your heart. That is what this beautiful rose arrangement symbolizes. A shared life. This loving gift of red roses in a classic glass vase is the perfect gift. Choose from either 30 red long- stemmed roses or upgrade to 42 roses!
Locations
WHITTEN ROAD
2435 Whitten Rd.
Memphis, TN 38133
(901) 405-6670
POPLAR AVENUE
5645 Poplar Ave.
Memphis, TN 38119
(901) 682-2501
UNION AVENUE
1882 Union Ave.
Memphis, TN 38103
(901) 726-1042
SOUTHAVEN, MISSISSIPPI
3075 Goodman Rd. Suite 14
Southaven, MS 38672
(662) 342-1832