Pugh's Flowers
Graduation is a major event and accomplishment in a person's life. It is a new time when graduates get to make decisions that will shape their lives. While graduation can be an exciting time for students, it can also be stressful and scary! Why not celebrate their achievement by sending them Graduation Congratulations Flowers? We have a wide range of graduation flower arrangements and other floral products available right now at our local flower shop.
Discount Offers – Use on Main Website
Congratulations Flowers
Congratulations flowers are the perfect way to celebrate a graduation! Whether it is your child graduating from high school or your friend is getting her advanced degree, congratulations flowers can help you show just how proud you are of their accomplishments. Whether they are going off to college or starting their first job, congratulate them on all their hard work by sending them a beautiful bouquet of congratulation flowers. Our selection includes many different varieties of congratulation bouquets that will make any occasion extra special!
We offer a wide selection of beautiful flowers and plants that are perfect for any occasion. Whether you are looking for sympathy flowers, birthday flowers, anniversary flowers or just a simple thank you gift, we have something to fit your needs. We also offer many different types of plants including roses, daisies, tulips and more! We have a wide selection of tropical plants that are perfect for anyone who loves the outdoors. Tropicals are beautiful and easy to care for, making them great gifts for anyone who has a green thumb!
Flowers make any occasion extra special. Whether you are celebrating a birthday, anniversary or any other special event, we have a variety of beautiful flowers and plants that are perfect for any occasion. If you need to send sympathy flowers but don't know what kind to get, our selection includes many different varieties of sympathy bouquets that will make your loved one feel better in no time! We also offer many different types of plants including roses, daisies, tulips and more!
Best Variety of Graduation Flowers
The best variety of graduation flowers include roses, lilies, gerbera daisies and sunflowers. Dahlias are also an excellent choice for any graduate who loves the color purple or orange. Dahlias are an excellent choice for any graduate who loves the color purple or orange. If you are not sure what kind of flowers to send, consider sending a mixed bouquet that includes roses and dahlias. The colors will complement each other beautifully and create a beautiful arrangement. Another option is to send the graduate flowers in their school colors. If you are not sure what these are, try looking up their mascot; often times this information is available on the school's website.
If you are sending flowers to a graduate who loves gardening or nature, consider sending them a bouquet of sunflowers. These bright yellow flowers are an excellent choice for any graduate who loves the color yellow. In addition, if you want to send flowers that will last longer than one day, consider sending roses or dahlias instead of tulips or daisies.
Best Variety of Graduation Plants
Choosing the best variety of graduation plants can be a difficult task. There are many options to consider, and it is important to choose the right one for your needs. The following tips will help you make an informed decision about which type of plant suits your taste and budget. Consider the size of your space. If you have limited floor space, avoid large potted plants that take up too much room–they may end up being in the way when they are not flowering or growing. Instead, opt for smaller varieties like succulents and cacti that require less maintenance than larger varieties but still look great when they bloom (and even better after they die).
Think about how often you will need to water them with care over time; this is especially true if there is no natural light source nearby since these plants tend not grow very big anyway so do not require much maintenance once established. If you have lots of space, consider planting some larger plants like Hibiscus or Bougainvillea. They tend to be a bit more expensive than other options because they can grow quite large, but they are also fairly easy to care for and will last for many years. If you are looking for something that requires little maintenance or space, consider succulents and cacti. They are very hardy plants that do not require much light or water once established–and they will continue to look great even when they are not flowering or growing!
There are a great variety of congratulations flowers and plants to choose from. When it comes to congratulating someone on their graduation, the choices can be overwhelming. We have taken all of the guesswork out of selecting a flower or plant that will suit your needs by providing an amazing variety of options for every occasion and budget. We offer a wide range of colors and sizes so you can find something that fits perfectly with your budget and style preferences. Our prices are competitive, but we also offer discounts when you place orders online or over the phone!
Conclusion
We hope that this article has helped you find the right floral gifts for graduation. If you have any questions or would like more information, please contact us. Our friendly customer service representatives can help you find the perfect gift.
Pugh's Flowers Same Day Delivery of Graduation Congratulations Flowers and Plants
Pugh's Flowers is a third generation, family owned and operated floral design firm. We operate three floral design centers in the greater Memphis area, and operate a fourth flower shop in Southaven, Mississippi. Our delivery team is one of the very best in Tennessee.  We are able to offer our local clients, same day or express flower delivery. We also provide nationwide same day delivery for any delivery outside of the state.
Pugh's Flowers was created and started in 1978, by Bill Pugh and a partner. Today, his three sons, Mark, Michael and Tim, run the flower shop and all related day to day operations. The Pugh's owns a number of other businesses. Some related to the flower shop and others not. As mentioned earlier, they utilize their delivery service, Lickety Split Couriers, to handle all local same day and express deliveries. In addition to flowers, the brothers have found success with their commercial landscape firm, known as Pugh's Earthworks, and with their pest control firm, Rosie's Pest Control.
At Pugh's, we are extremely blessed to have built a professional, customer focused employee team. Any successful flower shop is built around the floral design team. We have one of the finest groups of flower designers anywhere in Tennessee. Our operations staff and sales staff are also top notch. They are customer focused, motivated and dedicated folks. Our delivery operation is second to none.
We create traditional, contemporary and very modern metropolitan floral designs. Each flower arrangement comes with our 100% customer satisfaction guarantee. We create everything from a traditional dozen red roses, to some of the most stunning fresh flower arrangements you have ever seen. We carry all of the areas favorite flower varieties. We have a great selection of Oriental, Stargazer and Asiatic Lilies. We have the best Ecuadorian roses in town. Our gerbera daisies, tulips, carnations and full bloom hydrangea are absolutely gorgeous. Looking for something exotic. We carry beautiful fresh Protea and the prettiest Cymbidium and Dendrobium Orchids in Southaven. Our firm designs for all occasions, including weddings and corporate events. We are large enough to handle weddings and events of any size.
Local Same Day & Express Delivery
Pugh's Flowers offers same day flower delivery anywhere in the greater Memphis Tennessee area. If you are in our local delivery zone, we also offer 4 hour express flower delivery service, for those who have to have the flowers arrive at a specific time.
Need to send flowers to a local hospital? We can help. Pugh's Flowers provides same day & express flower delivery to all Shelby County Hospitals. Our get well flowers, plants and gift collection are the best in town. We also offer get well themed mylar balloons, teddy bears and delicious edible treats.
We offer the best selection of sympathy flowers in the state. Our firm provides local same day & express delivery service to all greater Memphis area Funeral Homes, Mortuaries and Cemeteries. As mentioned earlier, we also operate a floral design center in Southaven, MS. We make daily sympathy flower deliveries in Southaven, and throughout the DeSoto county area as well. We invite you to do your shopping on our website. If you prefer, we also have four floral design centers available for you to come in and see our entire selection of flowers, plants and occasion themed gifts.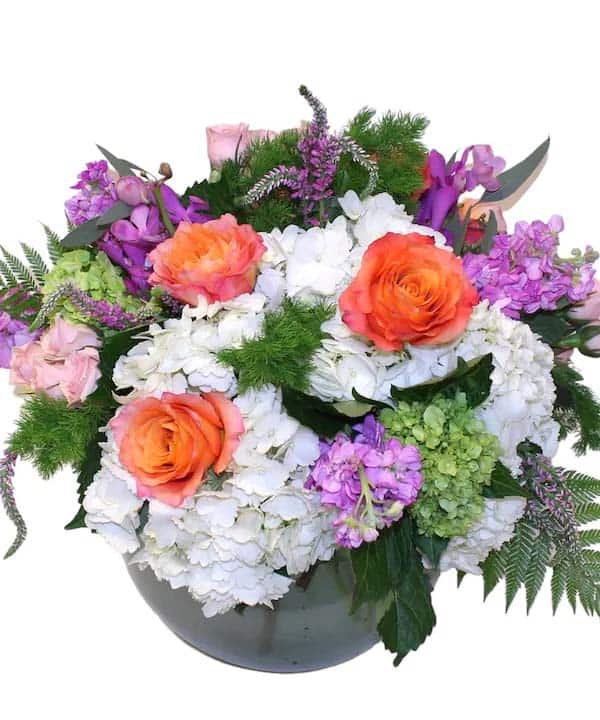 STUNNING SPRING MIX
Great as a Graduation gift. This stunning spring mix of fresh and lovely stems is artfully arranged in a fishbowl vase. This arrangement is filled with hydrangeas, roses, and more spring accent colors!
Locations
WHITTEN ROAD
2435 Whitten Rd.
Memphis, TN 38133
(901) 405-6670
POPLAR AVENUE
5645 Poplar Ave.
Memphis, TN 38119
(901) 682-2501
UNION AVENUE
1882 Union Ave.
Memphis, TN 38103
(901) 726-1042
SOUTHAVEN, MISSISSIPPI
3075 Goodman Rd. Suite 14
Southaven, MS 38672
(662) 342-1832