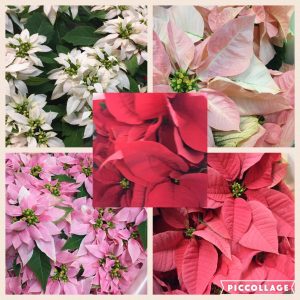 The poinsettia plant is one of the most beautiful symbols of the Christmas holiday season. With bright red or sterling white hues, these flowering plants provide a cheerful message that is great for decorating your home or office as well as giving as a special gift.
Our Memphis flower shop is overflowing with Christmas joy in the form of Christmas décor, Christmas flower arrangements, wreaths and garlands, and, of course, poinsettia plants. We have both red and white varieties of poinsettia plants on their own and with other plants like ivy.
You can also get various sizes of poinsettia plants with more than one flowering plant per container. The poinsettia plants are available in various types of containers, including baskets.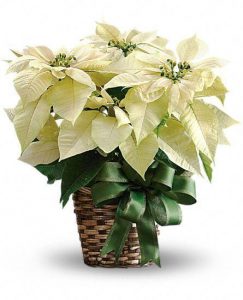 Once you have your own poinsettia plants or you have purchased them for others, it's important to know how to take care of them so they can last throughout the season and into the New Year! We have put together a poinsettia care guide that provides a comprehensive care plan for your poinsettia plants.
Some of the poinsettia care highlights include:
Check your poinsettia plant daily to make sure it has enough water. If the surface of the dirt is dry to the touch and there are no visible signs of water, than give it some water to keep it refreshed.
Put your poinsettia plant somewhere in your home where it will get natural light like next to a window that faces south, east, or west.
Keep the poinsettia plant in bloom by maintaining a temperature between 65 and 70 degrees Fahrenheit. Any colder than 60 degrees and the poinsettia plant could be vulnerable to root rot disease.
Make sure the poinsettia plant is not subjected to warm or cold drafts, as this will cause the leaves to fall off prematurely.
While poinsettia plants are not toxic to humans, they are to animals so keep your fuzzy family members safe by keeping them away from these plants. It's a good idea to place them higher up on a table or mantle for display.
Come by today to pick up your poinsettia plants in person at our Memphis florist locations. You can also order by phone or through our website for delivery throughout the Memphis area and across the country through our floral network.