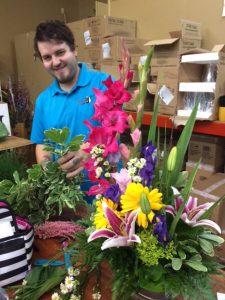 Next weekend is already Easter. It is Sunday, April 1st. There is still time to pick out that special Easter decor for your upcoming Easter celebration like a brunch or dinner with family or friends.
Maybe you are invited to someone else's house so it is nice to bring the Easter host a gift. Or, there will be someone missing this year from the Easter table so you want to send them a special Easter gift.
We can help you achieve any and all of those through our Memphis flower shop as well as our online flower shop. Here are some of the highlights from our Easter collection this year:
STUNNING SPRING MIX
A fishbowl vase holds a wide assortment of spring flowers, greenery, and fillers. It's great for decor throughout your home, office, or the Easter table or buffet table.
WELCOME SPRING
Pastel spring colors highlight this spring flower table centerpiece for Easter. It's a great way to decorate or gift the Easter host with your gratitude.
POUND CAKE AND SPRING STEMS
Available for local Memphis delivery only, this special gift of a spring flower arrangement and Memphis made pound cake is a great way to show your appreciation to Easter guests or the Easter host. The spring flower arrangement includes tulips and hydrangeas with a range of available. colors..
BUTTERFLY BASKET
This basket is filled with the colors, scents, and textures of spring. It includes spring blooms and greenery, such as daisies and carnations. It makes for a beautiful casual decoration for your Easter gathering.
SPRING CANDLE CENTERPIECE
This Easter centerpiece is perfect for the family Easter table. It's filled with fresh spring flowers in bold and pastel colors. Plus, it features a taper candle.
MY LITTLE CHICKADEE
This flower arrangement makes a great gift because it comes with a keepsake ceramic chick container. It's filled with bright blooms and seasonal accents.  will find it's home in all sorts of useful places where he will brighten your day.
CRYSTAL CROSS BOUQUET
This religious Easter flower arrangement offers stunning blooms, greenery, and a crystal cross that will be a treasure for years to come.It's a wonderful way to show your reverence towards such an incredible celebration as the resurrection of Christ.
PURPLE POWER
This is a regal flower arrangement that comes in a glass vase. It offers violent, purple, and lavender stems of all types and is a wonderful addition to an Easter buffet table or side table.
SWEETS AND TREATS
Our Sweets and Treats Gourmet Box is something that your Easter host will love. It comes with all types of goodies that are perfect for sharing at an Easter celebration.