Pugh's Flowers has Offered the Best Flowers in Memphis since 1976
The Spring Season is officially here until June 21st.  Easter is just around the corner!  This is a great time to visit Pugh's Flowers and shop with us to see our Easter and Spring Flowers Collection.  With Easter being such a popular holiday to spend time with loved ones and friends, flowers play a major part of the Easter Holiday. Not only do flowers add beauty and freshness to the Easter Holiday and Spring Season, but they also have religious meaning in some cases as they relate to Easter.  Pugh's Flowers has a broad selection of Easter and Spring Flowers.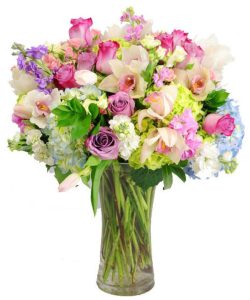 Spring and Easter Flowers from Pugh's Flowers are a welcomed gift. Mothers and grandmothers love Easter Flowers as well as your significant other, co-workers, church groups or even as an Easter dinner gift. It is recommended that Easter Flowers arrive one or two days prior to the Easter celebration beginning but Spring flowers are welcome to arrive anytime!
This is a nice time of year to get outside with family. In Memphis, going from April 9th until April 14th, there are Easter Egg hunts at Cedar Hill Farm. This event attracts families from the Mid -South and offers Easter Egg hunting, pony rides, petting zoo, face painting, home sweets like Fudge and wonderful lunch offered at the Country Kitchen. Give your wife a beautiful bouquet of Easter and Spring Flowers from Pugh's Flowers to add special meaning to the day.
Stop in and visit with a Pugh's Flowers Floral Designer and allow us the honor of helping you prepare a thoughtful Easter and Spring Flower arrangement. Below is a short list of some popular Easter and Seasonal Spring Flowers:
Tulips – These amazing springtime flowers are very low maintenance. You plant the bulbs in late fall or early winter.
Lilies – Trumpet shaped blooms coming in a multitude of colors, Lilies are fragrant and elegant.
Hyacinth – These bloom in purple, pink and white. They are some of the favorites as a pot or vase decoration. They are thought to symbolize peace of mind.
Baby's Breath – These are very delicate flowers. It is said they represent the Holy Spirit.
Daisies: White daisies are said to have the symbolism of the innocence of the Christ child.
Lilacs – Found in several varieties, Lilacs are colorful and very fragrant. Their blooms of blue, pink, white and lilac will brighten up any home.
Daffodils – Colors of peach, apricot, orange, coral, white and yellow the Daffodil is a frilly delicate flower. Used to convey true love or friendship.
Primrose – These are a native British flower. They have yellow blooms and leaves that appear to be crinkled. Typically, the best time of year for these is March – May.
Snowdrops – This flower starts growing in January in some parts of the country. The plant generates unusual white drooping bell shaped flowers.
Crocus – Purple, yellow and white varieties are very bright and cheery.
Forget – me – Nots – Usually found as a boarder flower, they are a short blue flower. They can be used as an accent to pots, gardens and arrangements.
Grape hyacinth – Another of the great plants for a pot, these have small bright blue flowers. They do have a tendency to spread easily so occasional thinning may be needed.
Bearded iris – Defined by their ruffs and falls which are the outer and inner petals, the hair looking growth in the center gives them the nickname, bearded Iris.
Alliums – These make for fabulous cut flowers in flower bouquets and arrangements. They have fantastic globe shaped purple flowers. Some people also like to keep them for dried flower arrangements as well as fresh.
Garden Beauty
If a little wow factor is in order, this Garden Beauty is the perfect pick. It's full and rich with pastel colors and rich and exotic stems. We love this brand-new bouquet and think you will too! It's only available in our local delivery areas too.  Flowers and stems will vary according to availability.
Pugh's Flowers Easter and Spring Flowers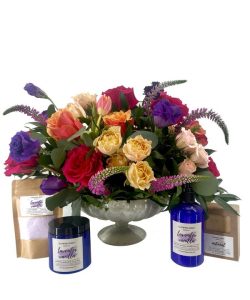 Pugh's Flowers is a true family-owned company that has a long history of providing great products and service to all customers. Back in 1976, Bill Pugh and his partner started the flower shop. As Bill exited the business, he entrusted it to his three sons.  They have carried on the great level of client satisfaction that their dad taught them. In addition to the four flower shoppes, the company also owns a landscape division named Pugh's Earthworks with Landscape operations are based in Memphis, Jackson, and Nashville, Little Rock and Southaven MS.
Pugh's Flowers imports the freshest cut flowers daily from around the world for our flower delivery. We receive our cut flowers on refrigerated trucks or by direct air shipment from the ports of Miami and New York, and the fields of Southern California. Our goal is to provide the freshest product daily at reasonable prices. Teleflora ranks Pugh's Flowers as one of the nation's 100 largest floral order senders from over 25,000 member shops.
Our full-service florist has a full selection of fresh cut flowers, fruit and gourmet baskets, green houseplants and home accessories that are all available in store, via the web or by phone. Pugh's Flowers is open 7 days a week 24 hours a day by phone 888-901-6744 and via the World Wide Web. The retail locations offer delivery 7 days a week both locally (Memphis, Millington, Bartlett, Arlington, Germantown, Southaven, Olive Branch, Horn Lake, West Memphis) and nationally.
Classy Compote
This gold compote centerpiece is filled with a stunning combination of stock, eucalyptus, hydrangeas, and roses.
Pugh's Flowers offers Easter and Spring Flowers 
Main Location
2435 Whitten Rd.
Memphis, TN 38133
(901) 405-6670