Pugh's Flowers Provides Instructions for Flower Arrangement and Plant Care
Many of us have had the good fortune of working with some of the very best Administrative Professionals. These men and women are most often selfless, dedicated, focused, unofficial office leaders and some of the most rigid gate keepers ever. Again, most of us have worked with people like that. The talented team of Floral Designers at Pugh's Flowers have prepared beautiful Administrative Professionals Day Flowers to honor this day.
Administrative Professionals Day used to be National Secretaries Day which was created in 1942. Over the years it has become more of a celebrated and recognized day. The past two years with people working more from home, it has heighted the awareness and importance of Administrative Professionals Day. These employees have been the glue that have held many offices together. Their ability to help the staff stay connected and informed has kept the harmony and productivity at high levels.
This year, Administrative Professionals Day is honored on April 27th. The official day always falls on the Wednesday of the last full week of April. In addition to sending the lovely flowers, there are more ways to pay respect to those Assistants that go above and beyond in the workforce. Other assistants are a large group that includes secretaries, administrative assistants, executive assistants, personal assistants, receptionists, client services representatives, and other administrative support professionals.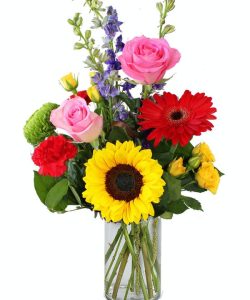 As you shop, keep in mind the top flowers for Administrative Professionals Day are:
Daisies – These symbolize innocence purity and can also be used to signify new beginnings. The actual flower meaning is "I will never tell". Therefore, they can represent loyalty as well.
Tulips – As it pertains to an Assistant's gift for Admin Day, the meaning would equate to Royalty and a regal nature.
Lilies – Different colors have unique meanings.
White lilies symbolize chastity and virtue
Orange tiger lilies convey pride and confidence
Stargazer lilies mean wealth and prosperity
Orchids – One meaning for an Orchid is Strength and Charme. That is the perfect complement for a valuable administrative employee.
In addition to the beautiful bouquet from Pugh's Flowers below are more things you might consider for Administrative Professionals Day:
Thank you – Often a simple word of appreciation can mean so much to a hardworking, dedicated and loyal assistant. They deal with demanding customers, endless emails and phone calls plus often act as the peace maker for office disagreements. Publicly sharing compliments, the management team has heard regarding customer praise or special projects that have been completed due to their expertise can also make them feel very special.
Time Off – Perhaps allow your assistant to leave a few hours early for some down time. They will return feeling appreciated and energized.
Create Opportunities for Growth – The majority of people love to be tasked with special assignments that are of value to the organization. Creating some growth and learning opportunities can motivate assistants.
These amazing people are held in high esteem. Many work tirelessly and go above and beyond to keep things working smoothly. Gaining the respect and admiration of their co-workers, bosses and customers, they deserve to be rewarded by having a day dedicated to them. To honor an employee or friend on Administrative Professionals Day, please visit Pugh's Flowers.
DAILY BOUQUET
A glass vase comes loaded with bright and colorful stems and will be just right for most any occasion. A simple "thank you", a "welcome to the neighborhood", an "I am thinking about you" or a "get well soon" wish are just a few examples of how to brighten someone's day with this daily bouquet. The price is right, so send one to someone who needs a lift today! Flowers and stems will vary according to availability.
Pugh's Flowers Administrative Professionals Day Flowers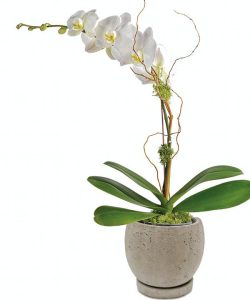 Pugh's Flowers offers instructions on the proper care for various flowers and plants. We want our customers to purchase floral products that will have an extended life so that they or their recipient of the gift may enjoy the beauty for the longest time possible. For example, if you decide to purchase an Orchid for Administrative Professionals Day, we have specific instructions to care for these delicate flowers. We will ensure that you have these so that you may pass them on to your special person when you give them the Orchid.
To extend the life of your orchids, change their water daily and give their stems a fresh trim every 2 – 4 days to ensure proper hydration. Cut off excess leaves and even orchid blooms that fall below the water line to avoid buildup of bacteria that could be harmful to the overall flower or arrangement. Removing any dead blooms or leaves throughout the life of your orchids will also help to increase their longevity.

Be sure to handle your orchids with the utmost care as they are a delicate bloom. With two hands for support, gently pick up your orchids so the fragile stem does not break. Although they originated in tropical and subtropical climates, orchids thrive best in locations that are not overly warm and do not receive direct sunlight. Since orchids can be harmful to our furry friends, display them on a tall shelf or in a place where your pets cannot.

Even if orchid flowers fall, you can continue caring for these blooms and encourage more growth. Simply eliminate the dead bits of the orchid and ensure it has fresh, clean water daily. This way, you can enjoy your orchids for weeks!
GRACEFUL ORCHID
The orchid is one of the most exotic yet long lasting of blooms and this one will bloom for up to 4 weeks. We will dress it up in a decorative container and add charming accents to make it a lovely gift. Colors and containers will vary. Orchid care instructions: Place in Medium to low light, in temperatures from 65 – 85 degrees and water with one "simple shot" full of warm water per week. Do not over water.
Pugh's Flowers offers amazing Administrative Professionals Day Flowers
2435 Whitten Rd.
Memphis, TN 38133
(901) 405-6670