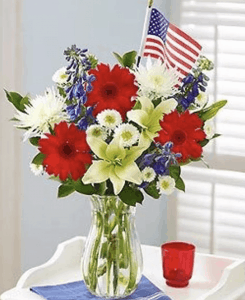 Whether we've personally lost a soldier or just appreciate and value the efforts these patriots have made for us in life, Memorial Day is an important day in the life of an American citizen.
These patriots gave their lives or spent their entire lives in service to us and our country.
At our Memphis flower shop and through our website, we have a Memorial Day collection to help you pay tribute as well as to celebrate our patriotism.
Here are some of the Memorial Day flowers and plants we have available for you.
MIXED PATRIOTIC ARRANGEMENT
This patriotic arrangement offers seasonal red, white, and blue flowers as well as patriotic and greenery accents.
HOORAY FOR THE RED, WHITE AND BLUE
This red, white and blue flower arrangement illustrates your patriotic spirit and pays tribute to all the soldiers we've lost.
FLAG CUBE
Memorial Day is a special time for celebrating America. Show your patriotic spirit with this red, white and blue cube style arrangement with flag accent.
SPIRIT OF AMERICA
This bouquet is an ideal patriotic gift or decoration for a special Memorial Day event. It makes a nice centerpiece for tables to show our love for the red, white and blue as well as the men and women who represent it in the armed forces.
COLORS OF OUR COUNTRY
Patriotic colors highlight this flower arrangement for decoration as a centerpiece for your upcoming Memorial Day event.
PATRIOTIC GARDEN
Gardens are another great way to show your patriotism and offer a long-lasting memory of a fallen patriot. We offer different sizes and styles that combine green and blooming plants.
SPIRITED ROSES
Give this special display of one half dozen red roses that are accented with an American flag and patriotic bow.
Besides these patriotic bouquets and plants for Memorial Day, we have a wide selection of other options to choose from at our Memphis flower shop. You can also work with our floral design team to create a custom flower arrangement, wreath, or spray for Memorial Day.