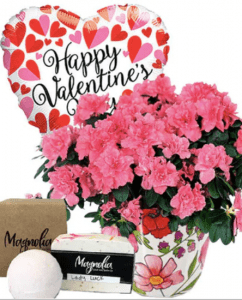 Valentine's Day is just a few weeks away on Sunday, February 14th. It's a time to celebrate each other and show appreciation for the love and affection you have with your partner or spouse.
In many cases, Valentine's Day is also an excuse to show love to your kids, friends, and other special people in your life beyond just the romantic relationship you have.
And, considering how 2020 went, we could all use more love in our life! Valentine's Day is an ideal to start a campaign of kindness, thoughtfulness, and caring.
Whatever the reason behind your Valentine's Day gift-giving, Pugh's has the best gift ideas to make a lasting impression on your recipient.
Our Valentine's Day collection is available for pickup and contactless delivery now through Valentine's Day. We offer same day local and nationwide delivery from our Memphis flower shop and florist website.
Valentine's Day Roses
Let's start with the crowd favorite for Valentine's Day: Roses. We partner with world-renowned rose farms that offer long-stemmed roses that are fresh, large, and long-lasting. Choose from many colors and quantities. You can also opt for Valentine's Day bouquets that combine roses with other treasured flowers.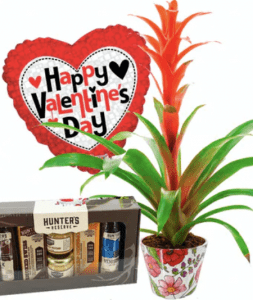 We've also put many of our rose bouquets with delightful gifts to create our beloved gift packages. There are rose bouquets with stuffed animals, chocolates, balloons, perfume, and more.
This is an ideal and value-driven way to get your Valentine's Day shopping done from one store!
Valentine's Gift Ideas
Beyond roses and bouquets of fresh flowers and unique floral designs, we have other Valentine's Day gifts that may suit your recipient.
These gift options for your loved one include green and blooming plants, dish and basket gardens, and gift packages that offer balloons, stuffed animals, and chocolates. We also offer other types of gift sets that include spa or skincare products.
For many of our gift packages and baskets, we try to work with as many local Memphis small businesses as possible so we can support and sustain each other. These companies share the same values of quality and fair pricing on all their products. This also helps us, as a Memphis small business, provide you with more variety for Valentine's Day.
Valentine's Day Orders
Call us or use our website ordering form to place your Valentine's Day order today! We are extremely busy and want to make sure everyone is able to enjoy Valentine's Day with their choice of flowers and gifts as well as their preferred delivery time.