Pugh's Flowers operates four flower shops in the greater Memphis and Bartlett area
The popular month of May has arrived, and graduation plans are starting to formulate. Such an exciting time for school students from preschool age and above as they will be moving to the next level of their education.  Throughout the education and ultimate graduation process, we cannot forget the teachers, professors and parents that have helped students reach graduation. Honor all of these individuals with thoughtful and elegant Graduation Flowers from Pugh's Flowers.
Pugh's Flowers congratulates all of these people and their accomplishments.  Our professional multi-talented floral designers will help you honor that accomplished graduate, teacher or parent. They will be so happy to receive a Pugh's Flowers Flower arrangement, or bouquet and you will be proud to give it to them.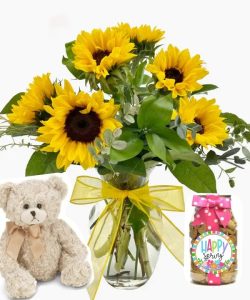 Graduation is a major event in people's lives. It is yet another chapter and an exciting time of progression. Flowers are a great way to recognize the accomplishments of a graduate, or anyone related to the graduate like a mom or teacher. The culmination of years of hard work to get to the point of graduation reflects determination and a great deal of pride.  As parents and family are always proud, giving flowers or a lovely gift basket is a great way to show thoughtfulness and pride.
Flowers have been an important symbol of thoughtfulness, love and caring for many centuries. Dating back to the Roman the goddess of love Venus often pictured surrounded with different varieties of flowers. In the 19th century, many writers referenced the "language of flowers".  That language defined symbolic meaning to colors and types of flowers.
Flowers will add to the joy of your friend's or loved one's graduation day. The color and symbolism of blossoming into the world are perfect for the occasion. There are numerous varieties of flowers each presenting different meanings. Below are some of the options of flowers that you might choose.
Hydrangeas
Symbolizing the "gratitude for being understood", hydrangeas are a lovely choice for a gift. They come in shades of purple, pink, blue or white and are very soft.
Roses
Roses are a widely accepted favorite flower. Used as confetti in celebrations, the ancient Romans also used roses as perfume.  Some royalty in the 17th century used roses as legal tender. Typically, we tend to think of roses as a symbol of romantic love, However, they can also be used to show admiration and affection for a graduate.
White roses symbolize a new beginning, purity, and genuine respect.
Pink roses symbolize happiness.
Yellow roses symbolize friendship, new beginnings, and joy.
Orange roses represent enthusiasm and desire.
Peonies
Peonies are a very popular springtime flower. They are frequently used in weddings and baby showers. In Victorian flower language they symbolize a more modest lifestyle of being shy with a happy life. So, if your graduate is more of the introvert type, peonies are the perfect flower. The Chinese culture considers peonies as the "king of flowers" and symbolize wealth and power.
Carnations
Having what some refer to as a spicy floral scent, carnations are always popular.  The carnation means "flower of gods," in Greek and Roman times. This is why they were often used in garlands. This makes them perfect for a graduate to wear as a boutonniere or corsage.
Red carnations show your admiration.
Pink carnations tell a graduate you will never forget them.
White carnations tell a graduate that your love for them is pure.
FOR MY SUNSHINE
COVID-19 Update: We're still delivering your love! During checkout, you will be offered "No Contact Delivery" for local deliveries to help ensure the health and safety of our community.
This arrangement is half a dozen, or a dozen, large sunflowers with eucalyptus!
Pugh's Flowers Graduation Flowers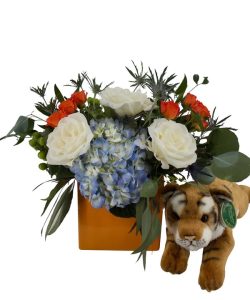 We operate four flower shops in the greater Memphis and Bartlett area. Pugh's also operates a floral design center in Southaven, Mississippi. Our main design and fulfillment center is located on Whitten Road, which is in Bartlett. Each of our design centers includes a beautiful customer showroom. We invite you to stop in and shop next time you are in the area. Our showrooms are filled with wonderful fresh flower arrangements, gorgeous green and flowering plants and gifts themed for all occasions.
Whitten Road: 2435 Whitten Rd. Bartlett, TN 38133 901-405-6670
Union Ave: 1882 Union Ave. Memphis, TN 38103 901-726-1042
Poplar Ave: 5645 Poplar Ave. Memphis, TN 38119 901-682-2501
Southaven MS: 3075 Goodman Rd. Suite 14 Southaven, MS 38672 662-342-1832
Pugh's Flowers offers both local and nationwide delivery options. Locally we offer same day and express flower delivery service. Nationally, we offer same day flower service. We have a team of delivery drivers on staff. We also own a delivery courier firm called Lickety-Split Couriers. They handle the vast majority of all flower arrangements that we deliver locally. Every flower arrangement we deliver is guaranteed to arrive fresh and on-time. All come with our 100% customer satisfaction guarantee. If for any reason you don't like the arrangement that we have designed and delivered for you, please contact our floral design center and we will replace that arrangement free of charge.
The zips below represent areas included in our local delivery zone for Bartlett. We do provide same day delivery anywhere in the USA, so in the event you need to send an arrangement to another city in Tennessee, or to another state, we well positioned to take care of that for you.
38133, 38134, 38135, 38184
MEMPHIS TIGER
This beautiful orange ceramic cube matches the tiger perfectly and filled with blue and white flowers for the University of Memphis!
Pugh's Flowers offers the Best Graduation Flowers in Memphis
Main Location
2435 Whitten Rd.
Memphis, TN 38133
(901) 405-6670