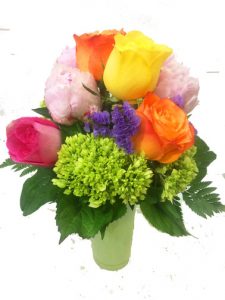 Summer officially arrived on June 21st to welcome sunny skies and warmer weather. With it also comes our summer collection of flowers and plants at our Memphis flower shop and online through our flower website.
These summer flowers and summer plants make great gifts for all occasions or as decor for an upcoming summer wedding or summer event. You can also add warmth and color to your home or office with our summer flower collection.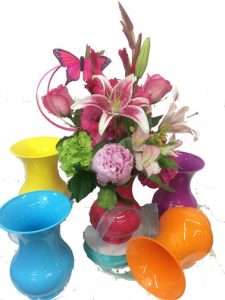 You can also add warmth and color to your home or office with our summer flower collection.
To give you an idea of some of the beautiful summer flowers and plants we have available now for orders by phone, in our Memphis flower shop, or online, check out these highlights from the summer flower and plant collection:
SUMMER OMBRE
Ombre is defined as a type of design where one color fades into another. This design technique has been adopted for this summer flower arrangement and offers a jar full of bright colors and variety of summer flowers. It is displayed in a unique vase that is only available while supplies last.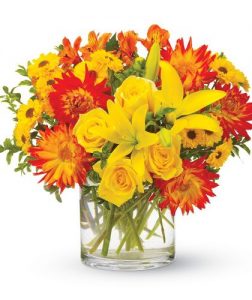 COLOR POP
Summer colors are in bloom in this special summer bouquet. You have a choice of brightly colored vases to choose from to display these lovely flowers.
SUMMER SAMBA
This summer flower arrangement combines orange and yellow blossoms. Flowers will vary based on what is currently available in our Memphis flower shop. You can also request your summer flowers of choice to see if we have them to feature in this special summer floral display.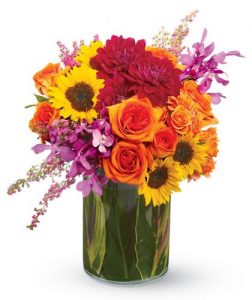 SUMMER SALSA
This summer bouquet includes a mix of orange, coral, and purple blooms in a clear glass vase that hs been lined with leaves. The flowers include roses, orchids, and sunflowers also based on availability.
SUMMERTIME SPLASH
This bright flower arrangement features yellow lilies as well as a combination of hot pink, orange, and green flowers in a modern glass vase!   Vase options include a cube or cylinder style, depending on what we have available.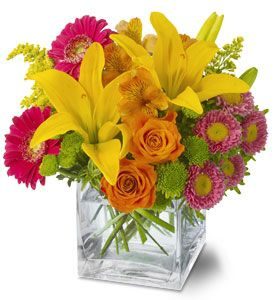 HAPPY DAY
Happy Day Bouquet is full of summer's blooming best varieties, including sunflowers, hydrangea, roses and other assorted stems blooms.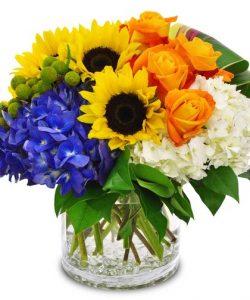 We also have a wide array of summer plants, including green and blooming plants, in an array of container choices. These are low-maintenance plants that are made to last for years to come for your home or office. Order today!