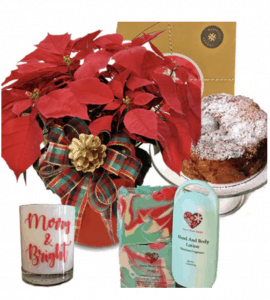 Today is the first holiday shopping event of the season. Black Friday is here followed by Small Business Saturday tomorrow on November 24th.
Our Memphis flower shop is ready to invite you in for a day of delightful shopping that includes a sneak peek at our holiday collection as well as many treats and festivities that make it more fun than frantic! We appreciate that you support local Memphis businesses like ours and it's why we have been in business so long.
Here are a few highlights from our new holiday collection to get you in the mood for holiday flowers and gifts:
HOLIDAY HOSTESS
Let's start with a special gift idea. This gift package only available for the Memphis delivery area includes a poinsettia plant, holiday scents lotion and soap gift set, a Memphis-made pound cake, and a hand-made soy candle. It's overflowing with holiday giving.
THOMAS KINKADE'S SNOWFALL DREAMS
Beloved painter Thomas Kinkade is central to this festive centerpiece. There is a keepsake hand-painted sculpture with light-up covered bridge that is surrounded by red roses and fresh winter greenery.
FESTIVE FRESH WREATH
We have a wide range of wreaths to choose from, including this one that features fresh pine and gold accents. It's a perfect way to welcome your holiday guests this season.
A MEMPHIS CHRISTMAS
This flower arrangement offers a bowl full of holiday cheer. It's an affordable way to add the Christmas spirit to your home or office as well as makes a great gift idea.
HOLIDAY ROSES WITH HYDRANGEA
Eight red roses are combined with hydrangea and seasonal greenery to create a beautiful look to the holiday decor. Send it to a special someone this holiday so they know you are thinking of them.
There's so much more to show you! We also have poinsettia plants, holiday gifts and collectibles, and delicious gift baskets.
On Cyber Monday, which falls on November 26th, we'll also have more deals on our flower website so don't forget us when you are doing hyour online holiday shopping!