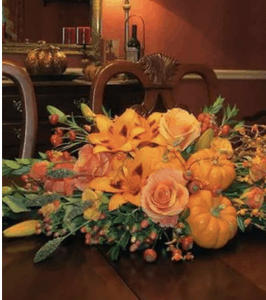 Thanksgiving arrives this Thursday. Are you ready?
If not, we can help you get ready by giving you an easy way to decorate your Thanksgiving table or find a gift to bring with you for a host who has invited you over for their feast.
Here are some ideas from our Thanksgiving collection now available:
THANKSGIVING CENTERPIECE
This is an elegant Thanksgiving centerpiece for a larger sized table. It's also a great gift idea for the Thanksgiving host.
FALL TREAT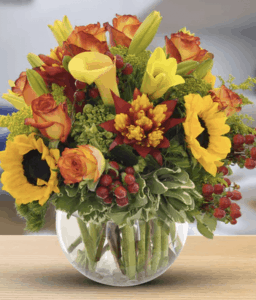 This is also an excellent gift for the Thanksgiving host. It includes a fall flower arrangement and freshly baked, southern style pound cake made locally in Memphis by Judy Pound Cakes.
SENSATIONAL SUNSET
This warm fall flower arrangement also makes a nice centerpiece for a smaller sized Thanksgiving table.
FALL MUM PLANT
Give this bronze cushion mum plant that comes in a wicker basket that features a miniature pumpkin and bow.
THANKSGIVING BOX
Only available for local Memphis delivery, this special gift of thanks includes an Autumn treats, fresh seasonal fruit, and a scented soy candle arranged in a rattan box with a lid.
You can save an additional $3 off your online order for Thanksgiving through November 21st by entering the "thanks3" code at checkout.
Remember to visit our Memphis flower shop on Black Friday and Small Business Saturday. We will have some great deals and will be previewing our holiday collection. We will also have online deals for Cyber Monday.