Pugh's Flowers
Send Your Love and Thanks This Thanksgiving From Our Memphis Florist
Pugh's Flowers has four flower shops throughout Memphis, Tennessee. Our florist locations and website are full of of flowers, plants, and curated gifts for delivery throughout the Memphis area as well across the country through our partnership with a nationwide network of florists that share our values. Thanksgiving is nearly here so it's time to select something from our Thanksgiving collection to send to loved ones who can't make it this year or to clients, colleagues, and neighbors to show your appreciation for all that they do.
Not everyone will be in Memphis this year for Thanksgiving so you can have a special thank you gift delivered to them. You may have family, friends, colleagues, and/or clients that live elsewhere and you want to show your gratitude to them.
We provide you many ways and options to express your gratitude this Thanksgiving thanks to our focus on providing the best service experiences possible.
First, if you would like to order by phone, we have a human operator available 24 hours, 7 days a week so you can talk to a real person. That means more personal attention and immediate answers to all your questions.
We offer service seven days a week with extended delivery hour options that include before 8:00am and after 3:00pm on local deliveries. We, or our affiliate, call the recipient of floral deliveries so that we can confirm proper delivery, freshness, and quality.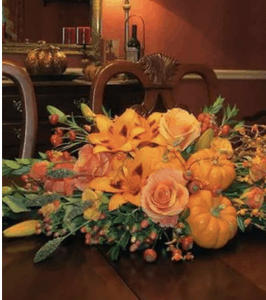 Our team of delivery drivers reflect our focus on service. Our delivery vehicles are easy to identify with our logos and are radio or cell phone dispatched. Our delivery drivers wear uniforms and/or name tags for identification
Finally, we offer local, national and world-wide same-day delivery service. That means you can even send a Thanksgiving gift to someone who may be living across the globe and missing the festivities since it may not be locally celebrated.
Let's get that Thanksgiving order started for you!