Thanksgiving is just around the corner, but it's not too late to schedule local and national Thanksgiving flower and centerpiece deliveries for family members, friends, colleagues, clients and customers, teachers, service personnel and more. Here, at Pugh's, we have you covered for this year's more intimate Thanksgiving events.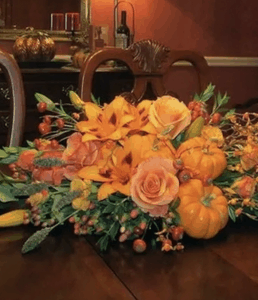 With more people who may not travel and attend your Thanksgiving event this year, we want to provide extra value, including our promo code (NOV9), which will save you some money on your order. We started this yesterday and it will run for nine days straight.
Not sure what to get for Thanksgiving floral gifts for those special people? Here are some ideas from our Thanksgiving collection.
First, Thanksgiving centerpieces are nice to deliver to those around you. It provides a great floral display for their celebration and shows your gratitude and appreciation for them. You can choose from a wide range of styles — from traditional with candles to modern and rustic to sophisticated and elegant.
Next, we have petite and large flower arrangements in fall hues and and accents that your recipient can place all over their home and think of you during this season of giving. You can again choose from a wide array of floral styles and designs.
These floral ideas can also work for you if you are planning on order Thanksgiving decor to host your own celebration. Our local Memphis delivery service can help you out during this busy time by dropping off all your Thanksgiving decor, saving you at least one errand!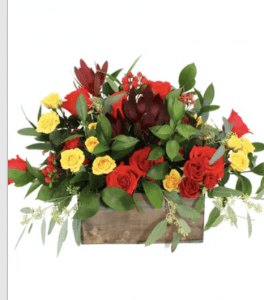 You can place your Thanksgiving orders for Memphis and nationwide by phone, through our website order form, or in-person at our Memphis flower shop. If you want to do custom Thanksgiving flowers, please contact us as soon as possible. This service is for Memphis only.
We welcome all your Thanksgiving orders. It is with deep gratitude that we want to thank all of our customers who have continued to support us throughout 2020 despite the  challenges we have all faced.
If the pandemic provides any lessons for us it's that we must appreciate more what we do have and focus on the things we can control and do to be kind and generous to those around us.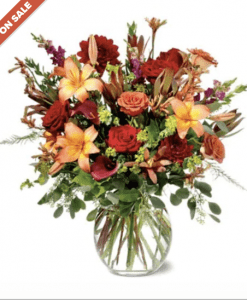 We wish everyone a wonderful Thanksgiving and look forward working with you throughout the holiday season!